Landis+Gyr helps Manchester go greener
Smart Meter leader to surround Stockport factory with wood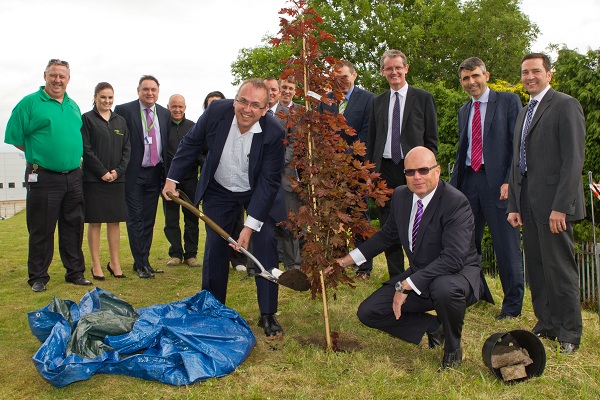 Stockport – June 28, 2013 – Stockport company Landis+Gyr is helping turn the Greater Manchester area a little bit greener, having this week planted the first of 500 trees at its Orion Business Park plant.
Through its smart meters, the world leading manufacturer is already helping the UK to cut its carbon emissions by allowing people to reduce the amount of energy they use. Now the business is going a step further and is planting a wood on more than 12,500 square feet of land surrounding its facility.
In total the 500 trees will offset over 450 tonnes of C02 over their lifetime, equivalent to taking 100 cars off of the streets of Manchester. The tree varieties include Elders, Guelder Roses, Silver Birches and Common Hazels and have been recommended by the local forestry commission, in conjunction with Landis+Gyr's horticultural specialist and the CSR team of parent company Toshiba.
Led by its executive team, including Jon Stretch (EVP EMEA), Dieter Hecht (EVP & CPO) and Jonathan Elmer (EVP & CFO), the tree planting is just one initiative that Landis+Gyr has introduced in Stockport to help manage the company's impact on the local environment, having also implemented energy, recycling and waste management programmes.
Commenting on today's event, Jon Stretch (EVP EMEA) said: "This is the latest effort by Landis+Gyr to make sure that we do our bit, and again demonstrates that we are not just talking the talk, we are walking the talk as well."
Oliver Jud (Head of Landis+Gyr Gas Metering Business) said: "Smart meters can make a huge difference to the UK's carbon targets, be it by helping people to cut their own emissions, allowing utilities to manage demand more efficiently, or by integrating renewables, electric cars and other green technologies.
But Landis+Gyr understand that this is only part of the story and that companies also need to proactively find ways to help the environment. Planting these trees will do just that, improving air quality for staff and local people alike, while also making a material difference to Landis+Gyr's own carbon footprint.
About Landis+Gyr
Landis+Gyr is the leading global provider of integrated energy management products tailored to energy company needs and unique in its ability to deliver true end-to-end advanced metering solutions. Today, the Company offers the broadest portfolio of products and services in the electricity metering industry, and is paving the way for the next generation of smart grid. With annualized sales of more than US$1.6 billion, Landis+Gyr, an independent growth platform of the Toshiba Corporation (TKY:6502) and 40% owned by the Innovation Network Corporation of Japan, operates in 30 countries across five continents, and employs 5,200 people with the sole mission of helping the world manage energy better.